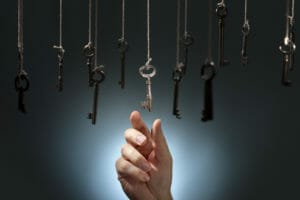 "Life would be so much better if I could just get people to do what I want them to do." Much of our stress and frustration is due to wishing, expecting and trying to get people to do what we want them to do.
Deuteronomy chapter 11 reminds us that God is the only one in existence who has the power to make people to do what He wants them to do…and He doesn't do it! He lets people choose (Deuteronomy 11:26) God spells out our options and the consequences for those options. He also urges and encourages us toward the better choice. But He won't make that choice for us.
If God can save us difficulty and problems by making us do what we're suppose to do, why doesn't He?
I'm guessing it has something to do with God's focus on relationship. A relationship can only exist in an environment where both parties have the freedom to choose how they will respond to the other. Because, if that freedom to choose is not there, then it's not a relationship. It's a dictatorship.
There are two lessons in Deuteronomy chapter 11:
First, we need to learn how to love people and hold out the best to them. But we also need to allow people the freedom to respond as they choose…even if we think they're choosing poorly.
Second, we must choose how we will respond to God. We must make this choice day-by-day and minute-by-minute. Then we must own the consequences of our choices.
May we grasp the fact that the One person in all of existence who can make us do whatever He wants us do chooses to give us the choice. He gives us an awesome opportunity to choose well…but we must choose!